Mayuko Kamio |
Hirofumi Isaka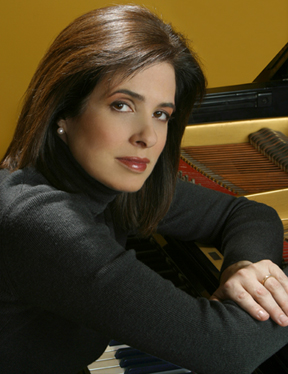 Noreen Cassidy-Polera, Pianist
Program:
Wolfgang Amadeus Mozart - Sonata in E minor, K. 304
Maurice Ravel - Sonata for Violin No. 2 in G Major, Op. 77
César Franck - Sonata in A Major

Hirofumi Isaka

"Exciting young musician... a radiant talent"
– The New York Times
Japanese violinist Mayuko Kamio, the gold medalist of the 2007 International Tchaikovsky Competition, is widely praised for her luxurious silken tone, long expressive phrasing and virtuoso techniques. The New York Times has called Ms. Kamio an "exciting young musician" and "a radiant talent." Ms. Kamio made her concerto debut in Tokyo at the age of ten under the baton of Charles Dutoit, in a concert broadcast on NHK television. Since then, she has appeared as soloist with the Boston Pops conducted by Keith Lockhart, the Tonhalle Orchestra in Zurich with Mstislav Rostropovich, and the Israel Philharmonic under Zubin Mehta. Engagements in the 2016-17 Season include orchestra appearances with the Vancouver Symphony Orchestra, Nihon Philharmonic, Symphony Silicon Valley. Columbus Symphony (GA), Guiyang Symphony Orchestra and Saginaw Bay Symphony, as well as give recitals with Chamber Music San Francisco, Chamber on the Mountain and Merkin Hall in New York City.
She has toured with the National Philharmonic of Russia conducted by Vladimir Spivakov, the Budapest Festival Orchestra under Ivan Fischer, the Munich Philharmonic under Zubin Mehta, the Prague Philharmonic, the BBC Philharmonic, Israel Philharmonic, the Oviedo Symphony Orchestra of Spain; and appeared in Japan as soloist with the Tokyo, Hiroshima, Kyoto, NHK, Osaka, Sapporo and Yomiuri Nippon symphony orchestras; and the Japan, Tokyo and Tokyo City philharmonics.
Recently she toured with Israel Philharmonic under Ludovic Morlot, the South America with the Munich Philharmonic under Zubin Mehta, and Japan with the German SWR Symphony Orchestra under François-Xavier Roth. Other recent orchestral highlights include appearances with the BBC Symphony Orchestra under Jiri Belohlavek, Budapest Festival Orchestra under Ivan Fischer, NHK Symphony Orchestra under Vladimir Ashkenazy, Israel Philharmonic under Yaron Traub, Calgary Philharmonic under Roberto Minczuk and Colorado Springs Philharmonic under Carl St. Clair. As a recitalist, she has performed in such major cities as New York, Washington DC, St. Petersburg, Moscow, Frankfurt, Warsaw, and Tokyo.
As a winner of the 1998 Menuhin International Violin Competition, the youngest artist ever to win the award, Ms. Kamio performed with the Orchestra National de Lille with Lord Menuhin conducting. In 2000 she took first prize in the Young Concert Artists International Auditions, and in 2004 she won the first Monte Carlo Violin Masters Competition. As part of this award, she made concerto appearances at the Salle Gaveau in Paris with the Orchestra of the Conservatoire Supérieur de Paris conducted by Jean-Michel Durand, and in Monte Carlo with the Philharmonic Orchestra of Monaco, conducted by Eliahu Inbal. That same year, she was awarded the gold medal at the first International David Oistrakh Violin Competition in Ukraine.
She has released four recordings on the SONY and BMG labels, a sonata recording of Franck, Brahms and Strauss, a concerto recording of Tchaikovsky and Prokofiev Concerti, a collection of violin solo works with piano of Chausson, Stravinsky, Szymanowski, Waxman and Paganini's 24 Caprices for Solo Violin.
Ms. Kamio was born in Osaka, Japan in 1986, and began to play the violin at the age of four. Her early teachers were Chikako Satoya, Machie Oguri and Chihiro Kudo, and she worked with Koichiro Harada at the Toho Gakuen School of Music. She studied in the U.S. with Dorothy DeLay and Masao Kawasaki at the Aspen Music Festival and the pre-college division of The Juilliard School. She completed artist's diploma studies at the Hochschule für Musik und Theater in Zurich, where she worked with Zakhar Bron. Ms. Kamio received a grant from the Bagby Foundation for the Musical Arts, and is a recipient of the prestigious Idemitsu Music Award. Mayuko Kamio plays on the 1735 "Sennhauser" made by Joseph Guarneri del Gesu, kindly offered by the Strad Society in Chicago.
Visit Dispeker Artists for more information.
The pianist Noreen Cassidy-Polera ranks among the most highly-regarded and diverse chamber artists performing today, and maintains a career that has taken her to every major American music center and abroad to Europe, Russia, and Asian centers of Hong Kong, Shanghai, Beijing and Seoul and Tokyo. Recent performances include those at Zankel Hall, Weill Recital Hall, 92nd Street Y, Jordan Hall, Gardener Museum, Kennedy Center , the Louvre and the Casals and Piatigorsky Festivals. She has been a guest at the Caramoor, Bard, Grand Teton and Cape Cod Chamber Music festivals, as well as engagements at the Chamber Music Societies of Philadelphia and La Jolla. She has recorded for Sony, EMI, Audiophon and Centaur Records.
In addition to being a regular recital partner with cellists Amit Peled and Narek Hakhnazaryan, Ms. Cassidy-Polera has appeared with Matt Haimovitz, Carter Brey, Antonio Menesis, Aurora-Natalie Ginastera, Yo-Yo Ma and Leonard Rose. Winner of the Accompanying Prize at the Eighth International Tchaikovsky Competition in Moscow, she regularly collaborates with laureates of the Queen Elisabeth, Tchaikovsky and Naumburg international competitions.
Ms. Cassidy-Polera's mastery and affection for the complete standard cello-piano repertory is well-known, as is her attention and dedication to the works of living composers. In recent seasons she performed Elliott Carter's venerable Sonata for Cello and Piano on tour in Paris, New York and Philadelphia, along with new works by Lowell Liebermann, Benjamin C.S. Boyle and Kenji Bunch to critical acclaim. Her CD recording Sound Vessels (with cellist Scott Kluksdahl) features the recording premiere of Richard Wernick's Duo, and works of Robert Helps, Augusta Read Thomas as well as Elliott Carter.
Noreen Cassidy-Polera holds Bachelor of Music and Master of Music degrees from the Juilliard School, where she studied with Martin Canin.