East on Hwy 150. Three miles to (landmark) Boccalis restaurant.

Right fork up Dennison Grade, past picnic area, small bridge.

Prepare for left turn one mile beyond bridge. (Watch for fast oncoming traffic)

(landmark) On left, walnut trees - Stele stone sign that reads:
BESANT HILL SCHOOL

Left onto Happy Valley Road. Take first left fork up hill to: "Beatrice Wood Center for the Arts."

Follow signs to parking area.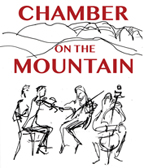 Home | About Us | Performance Schedule | Tickets | Past Performances | Map & Directions | Contact Us
Copyright © 2022 Beatrice Wood Center for the Arts
PO Box 804 / Ojai, CA 93024
(805) 646-3381
www.chamberonthemountain.com