Commencing in 2013 by our Founding Artistic Director, renowned harpist Heidi Lehwalder, Chamber On The Mountain is now celebrating its tenth season of presenting some of the finest classical musicians in the world to our audiences in a beautiful, intimate setting. We present four or five Sunday afternoon concerts a year between September and June, scheduled around the school calendar to ensure we are reaching as many students as possible. Our concerts take place at Logan House, at the Beatrice Wood Center for the Arts in Upper Ojai, where our audiences experience an extraordinary musical experience in a breathtakingly beautiful, natural space. Our venue is surrounded by mountains and gardens, giving concert-goers an opportunity to escape the bustle of the city and connect with the extraordinary beauty of Ojai.

The Arianna String Quartet & Michele Levin, Pianist, in a group photo
with Heidi Lehwalder, Founding Artistic Director for Chamber On The Mountain,
taken after the December 3rd, 2017 performance at Logan House.
Left to right: John McGrosso, violin; Julia Sakharova, violin; Heidi Lehwalder, Artistic Director;
Michele Levin, piano; Joanna Mendoza, viola; and Kurt Baldwin, cello. (Photo: Christine Gregory)
Our primary goal is to bring the very best musicians living today to our community. We have presented such musicians as the Busch Trio, one of Europe's leading chamber ensembles, and the Amerigo Trio, which was established by the New York Philharmonic's concertmaster. Please visit our Past Performances page to read more about the incredible artists we have presented.

Anderson & Roe, Piano Duo: Elizabeth Joy Roe and Greg Anderson
after the Chamber On The Mountain performance on January 17, 2016. (Photo: Christine Gregory)

While concert programs that include these musicians are often prohibitively expensive, accessibility is one of our priorities. Therefore, we have committed to keeping ticket prices quite affordable for the foreseeable future. Our venue is ADA compliant, further allowing access to anyone interested in attending. We also keep our concerts during the day, which is very helpful for families with children and the elderly and encourages attendance from these artistically underserved groups. Typically, when one is given the rare chance to see musicians of this caliber, the artists are placed on the pedestal of a stage, never personally interacting with the audience. Chamber On The Mountain is very different. First of all, our concerts take place in an intimate, living-room style space. Pianists and accompanists perform on the legendary concert pianist Lili Kraus' Hamberg Steinway, a one-of-a-kind instrument that lights up any performance. The performers are bathed in natural light, and the audience is a mere three feet away. The connection that an observer can make in this setting is much more profound than in a traditional concert venue. We believe that an artistic experience is not complete without the ability to learn from the artist you have observed by asking questions. We provide an extensive reception following each concert where anyone is given the opportunity to speak with the performers.

Anthony Trionfo, Flutist and Albert Cano Smit, Pianist
Photo taken after their Chamber On The Mountain performance at Logan House, March 4, 2018 (Photo: Christine Gregory)
Our facility is on the same grounds as the Besant Hill School. Because of this, we invite any student of the school to attend concerts free of charge. The guest artists provide outreach concerts at the school's assembly the day following their Chamber on the Mountain performance. For the students of Besant Hill, this offers the opportunity to gain wisdom from our artists. Many of our performers are only a few years older than the students, but have already built an international reputation. They have worked hard and reaped the benefits of their labors, showing that work ethic makes a tangible difference. These interactions allow them to make informed decisions about their path in life.
In 2014, Ruth Pope, daughter of Legendary Pianist, Lili Kraus, one of the most extraordinary musicians of the twentieth century, donated her mother's rare and priceless custom-built Hamburg Steinway concert grand piano to the Happy Valley Foundation, home of Chamber On The Mountain. To celebrate this incredible gift, Chamber On The Mountain introduced the piano to our audience in a special commemorative concert on December 14, 2014, starring acclaimed pianist and composer Michele Levin.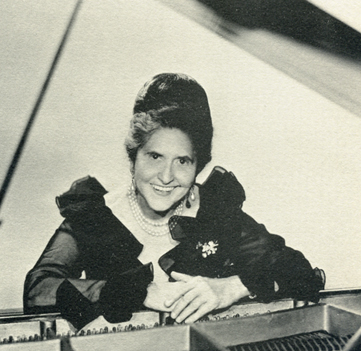 Legendary Pianist, Lili Kraus
The Hungarian-born Lili was a child prodigy, performing publicly at the age of seven and studying at the Royal Academy in Budapest where her mentors included Bartok and Schnabel. A foremost interpreter of Mozart, Schubert and Beethoven, she played with leading orchestras throughout the world. Her career was violently interrupted, however, when, on a tour of Southeast Asia she was mistaken for a spy and sent to a Japanese POW camp. Isolated from her family the first year, she was finally released in 1943.
Soon after the war ended, Lili resumed her concert tours and in 1950 was invited to play with the newly founded Ojai Music Festival. She was hosted throughout her stay by Rosalind Rajagopal, a director of the Happy Valley Foundation and School (now called Besant Hill School). The association was mutually beneficial: Rajagopal was a nutritionist and nurtured Lili back to health, while the school benefited from Lili's master classes, intimate concerts and influential presence for several months each year.
At the same time, Lili's daughter, Ruth, became fast friends with Rajagopal's daughter, Radha, now a Trustee Emeritus of the Happy Valley Foundation. On a recent visit, Ruth had a chance to meet Heidi Lehwalder, the founding artistic director of the foundation's newest venture, Chamber On The Mountain.

Lili Kraus' Custom-Built Hamburg Steinway Concert Grand Piano
in Logan House, at the Beatrice Wood Center for the Arts
The 1964 Steinway Model C is valued not only because of its prestigious ownership, but because it was made in Hamburg, Germany, rather than Queens, New York, by C.F. Theodor Steinway, considered the Steinway family's innovator and engineer par excellence. The Hamburg is rated a category one, best-in- class piano. Adding to its rarity, the Model C is no longer produced.
In donating Lili's piano to the Happy Valley Foundation, Ruth Pope is helping to ensure the future of Chamber On The Mountain and world-class chamber music in the Ojai Valley.

Pianist Christopher Goodpasture with Lili Kraus' Custom-Built Hamburg Steinway Concert Grand
After the Chamber On The Mountain performance featuring Narek Arutyunian, Clarinetist, January 27, 2019 (Photo: Christine Gregory)
March 2022
Zlatomir Fung Receives Borletti-Buitoni Trust Fellowship 2022!
The Borletti-Buitoni Trust has announced Zlatomir Fung as a BBT Fellowship Winner 2022. A 2020 recipient of an Avery Fisher Career Grant and the first American in four decades and youngest musician ever to win First Prize at the International Tchaikovsky Competition Cello Division, Fung will receive £20,000 from the BBT to use towards career advancement.
The Borletti-Buitoni Trust (BBT) supports both outstanding young musicians (BBT Artists) and charitable organisations that help the underprivileged and disadvantaged through music (BBT Communities). Whether developing and sustaining young artists' international careers, or bringing the joy of music to new communities, the Trust provides invaluable assistance and encouragement.
Of Bulgarian-Chinese heritage, Zlatomir Fung began playing cello at age three and earned fellowships at Ravinia's Steans Music Institute, Heifetz International Music Institute, MusicAlp, and the Aspen Music Festival and School. Fung studied at The Juilliard School under the tutelage of Richard Aaron and Timothy Eddy. Fung is a 2016 U.S. Presidential Scholar for the Arts. He has been featured on NPR's Performance Today and has appeared on From the Top six times.
Recent highlights include a multi-city U.S. tour culminating in a Carnegie Hall recital debut, performances with the Detroit, Kansas City, Seattle, Ann Arbor, and Asheville Symphonies, Iris Orchestra, a joint recital with fellow Tchaikovsky Competition winners at Carnegie Hall, London's Wigmore Hall with IMS Prussia Cove, ChamberFest Cleveland, Bravo! Vail in a chamber music program with Joshua Bell and Shai Wosner, Philadelphia Chamber Music Society, debuts at the Aspen Music Festival and La Jolla Chamber Music Society, and tours of Italy, Russia, China, and Japan with orchestras and in recital.
Congratulations Zlatomir!
March 2020
Zlatomir Fung Wins 2020 Avery Fisher Career Grant!
The Avery Fisher Artist Program announced March 25th that 20-year-old cellist Zlatomir Fung has been awarded
a 2020 Avery Fisher Career Grant of $25,000. The program recognizes talented instrumentalists whom
the Executive Committee determines have great potential for solo careers.
June 2019
Announcing the 2019 Tchaikovsky Competition Gold Medalist, Zlatomir Fung
The Cello Jury of the prestigious International Tchaikovsky Competition in St. Petersburg, Russia has awarded
20 year-old Zlatomir Fung the competition's First Prize and Gold Medal, following his Final Round performance
of Tchaikovsky's Rococo Variations and Shostakovich's Concerto No. 2 with the St. Petersburg Philharmonic Orchestra.
Watch Video
Zlatomir Fung performed for Chamber On The Mountain on March 3, 2019 and an all-Brahms program on March 1, 2020.

Congratulations Zlatomir!

Pianist Albert Cano Smit Won First Prize at the 2019 Young Concert Artists International Auditions!
Spanish/Dutch pianist Albert Cano Smit won First Prize at the 2019 Young Concert Artists International Auditions, as well as The Paul A. Fish Memorial Prize, the Alexander Kasza-Kasser Concert Prize for support of his Kennedy Center debut, the Friends of Music Concert Prize (NY), and the Sunday Musicale Prize (NJ). Other prizes include First Prizes at the 2017 Walter W. Naumburg Piano Competition, which presented him in recital at Carnegie's Weill Recital Hall.

As soloist with orchestra, Mr. Cano Smit has performed with the San Diego Symphony Orchestra, Orchestre Symphonique de Montreal, the Manchester Camerata, the Nottingham Youth Orchestra, and the American Youth Symphony. In recital, he has performed at L'Auditori de Barcelona, Herbst Theatre in San Francisco and Fondation Louis Vuitton in Paris, and on tour in Spain. Mr. Cano Smit currently studies with Robert McDonald at The Juilliard School. Previous teachers include Ory Shihor, Graham Caskie and Marta Karbownicka. He has benefited from major artistic advice by YCA alumni Richard Goode and Jean-Yves Thibaudet, with whom he gave four-hand performances at Zipper Hall in Los Angeles and Wallis Annenberg Center Hall in Beverly Hills. Mr. Cano Smit is an alumnus of the Verbier Festival Academy.

Albert Cano Smit performed for Chamber On The Mountain with Flutist, Anthony Trionfo on March 4, 2018.
Congratulations Albert!

Heidi Lehwalder, Artistic Director for Chamber On The Mountain,
Receives the Seattle Youth Symphony Orchestra's (first-ever) 2018 Distinguished Alum Award
Former SYSO musician Heidi Lehwalder is an internationally renowned harpist who has performed and taught around the globe. In recognition of Lehwalder's remarkable career and her ongoing dedication to coaching young musicians, SYSO is thrilled to present her with their first-ever Distinguished Alum Award at The Power of Music Benefit Luncheon, April 22, 2018.
Heidi Lehwalder's career highlights include:
First recipient of the prestigious Avery Fisher Prize (now the Avery Fisher Career Grant)
Only harpist to ever tour with the famed Marlboro Music Festival in Vermont
Served as Professor of Harp at the School of Music at the University of Washington
Appeared on Leonard Bernstein's Young People's Concerts on CBS at age 14
Performed as guest artist with more than 65 orchestras including: New York Philharmonic, The Cleveland Orchestra, Montreal Symphony, and, of course, Seattle Symphony where she has appeared 55 times
Met Opera's New Concertmaster: The Canadian Violinist Nikki Chooi
The Metropolitan Opera announced Thursday that its next concertmaster would be the young Canadian violinist Nikki Chooi,
who performed for Chamber On The Mountain on May 1, 2016. Mr. Chooi, 27, who was offered a one-year contract beginning next month,
will join the Met's other concertmaster, David Chan.
Read the Article that appeared in the New York Times, July 6, 2016
Congratulations Nikki!

The Real Star of the 2016 Grammys was Ji-Yong Kim, the Pianist from That Android Commercial
Ji, Pianist, performed for Chamber On The Mountain on Sunday, May 17, 2015 and also Sunday, September 23, 2018..
Watch his phenomenal performance in a commercial that aired during the 2016 Grammy Awards Show.
WATCH VIDEO
View our Press Page for additional articles about Founding Artistic Director, Heidi Lehwalder, and Chamber On The Mountain.