Performances take place at Logan House
at the Beatrice Wood Center for the Arts
8585 Ojai-Santa Paula Rd., Ojai, CA 93023
Stay informed!
Would you like to be on our email list to receive announcements about our upcoming Chamber On The Mountain performances?
Please email us at: ChamberOnTheMountain@gmail.com and ask to be added to our contact list.
Follow us on Facebook and Instagram!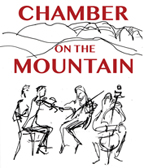 Home | About Us | Performance Schedule | Tickets | Past Performances | Map & Directions | Contact Us
Copyright © 2022 Beatrice Wood Center for the Arts
PO Box 804 / Ojai, CA 93024
(805) 646-3381
www.chamberonthemountain.com