UPCOMING PERFORMANCE
Ji
Pianist


Ji
Photo by Dario Acosta
Sunday, September 23, 2018
3:00 pm / Logan House
Tickets $25.00

"Ji is a pianist with an impressive keyboard command. I've nothing but praise for his fearless taming of Corigliano's 'Etude Fantasy,' a musical tsunami that left the audience pinned back against the wall. In the Bach-Busoni Toccata, Adagio and Fugue, BWV 564, he drew organ-like sonorities out of the instrument, playing forcefully without any sense of pounding. Ravel's 'La Valse' was also a tour de force, with admirable clarity in the opening pages and the painting of musical pictures even in the most difficult passages"
— THE WASHINGTON POST
"Ji proceeded to play the most beautiful recital I've heard this year . . . His playing has its own personality and character. It has a point of view that is distinctly his, that is fresh."
— KANSAS CITY STAR
"He radiated the confidence of a gifted, sensitive young pianist who is clearly going places. Ji revealed a command of the Mozart sound and style that seemed astonishingly mature."
— CHICAGO TRIBUNE
"South Korean piano star Ji thrills with his interpretation of masterpieces."
— BANGKOK POST
WATCH VIDEO
The Real Star of the Grammys was Ji-Yong Kim, the Pianist from That Android Commercial
A new Android commercial that aired during the 2016 Grammys has Twitter and the show's audience at home asking one thing: "Who's that piano player?" Finally, we have an answer for you: Ji-Yong Kim.
The commercial features Ji playing two pianos, one of which has been tuned entirely to middle C. It's sort of a high-concept jab at Apple and tied to Android's slogan of "Be together, not the same."
But honestly, about the only thing that matters is Ji's high-speed rendition of the third movement of Beethoven's "Moonlight Sonata."
Ji
Pianist
Hailed by the Chicago Tribune as "a gifted young pianist who is clearly going places," Ji has been praised from a young age for his compelling musical presence and impressive technical command. He has appeared as soloist with orchestras including the Toronto Symphony, Orchestra of St. Luke's, Nashville Symphony, Bangor Symphony, Fairfax Symphony, Colorado Symphony Orchestra, Charlotte Philharmonic, Victoria Symphony, New Haven Symphony, New Jersey Symphony, Santa Rosa Symphony, and the Brevard Festival Orchestra.
Winner of the 2012 Young Concert Artists International Auditions, Ji made recital debuts at Merkin Concert Hall and the Kennedy Center on the Young Concert Artists Series to rave reviews. He has given recitals and educational outreach programs throughout the U.S. at the Alys Stephens Performing Arts Center, the Harriman-Jewell Series, Philadelphia's Morning Musicales, the Buffalo Chamber Music Society, Mary Baldwin College, the Brownville Concert Series, La Jolla Music Society, San Diego's Mainly Mozart Festival, the Morgan Library and Museum, St. Vincent College, the Evergreen Museum and Library, the Port Washington Library, and the Isabella Stewart Gardner Museum. He has also performed in four-hand recitals with Marika Bournaki at the Seoul Art Center and with Charles Wadsworth in a chamber music program of Charles Wadsworth and Friends.
Highlights of the 2016-2017 season include recitals at the Chamber Music Society of Palm Beach, the National Gallery of Art, the National Gay and Lesbian Chamber of Commerce, Iowa State University, the Haywood County Arts Council, Mexico's Centro Nacional de las Artes, the Honest Brook Music Festival, Saint Martin's Abbey Church, and a concerto performance with the Westchester Philharmonic.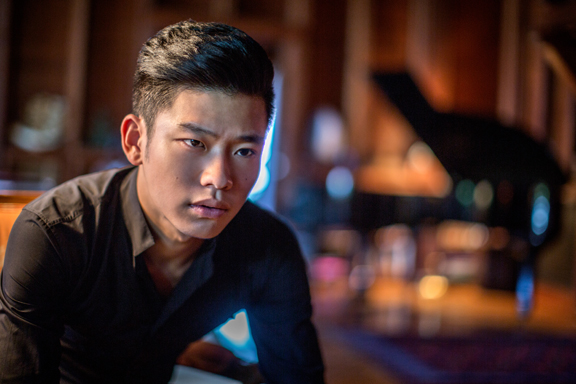 Ji
Photo by Dario Acosta
Well-known in Korea, Ji performed the country's first outdoor classical concert as soloist with the BBC Symphony under Jirí Belohlávek; and performed in Seoul with world-renowned ballerina, Sue Jin Kang and dancers from the Stuttgart Ballet. Ji's creative vision to make classical music accessible to young people led to his "Stop & Listen" outdoor "guerrilla" performances in 2010, during which he worked with renowned Korean pop-artist Tae Jung Kim to design the "Ji-T" piano, bringing classical music to the public on the busy streets of Seoul. He also collaborated with the Japanese electronic/house music singer FreeTEMPO. From 2008 to 2013, Ji performed as a member of the Ensemble DITTO in Korea and Japan with violinist Stefan Jackiw, violist Richard O'Neill, and cellist Michael Nicolas.
In early 2016, Ji was the star of a national Android commercial in which he performs Beethoven's Moonlight Sonata on two pianos, one that features the usual 88 pitches on a piano, and one that is tuned so that each key plays a middle C. He has recorded two CDs: Bach Exhibition on the Credia label, and Lisztomania with Credia/Universal Music.
Ji began playing the piano at the age of five. At the age of ten, he was the youngest pianist to win the New York Philharmonic's Young Artists Competition, resulting in a performance at Avery Fisher Hall under Maestro Kurt Masur. He graduated from the Juilliard School where he studied with Yoheved Kaplinsky.