VENTANA MAGAZINE
February 2016, Page 11
"Simply a Genius" by Leslee Goodman
Transcript below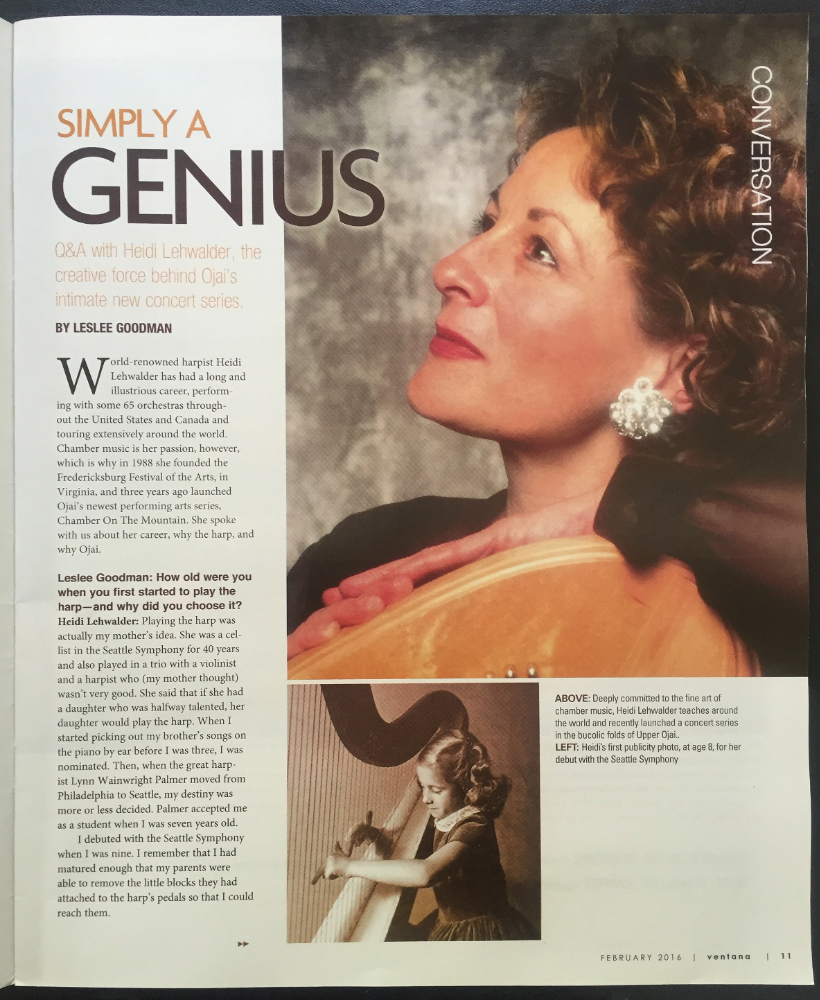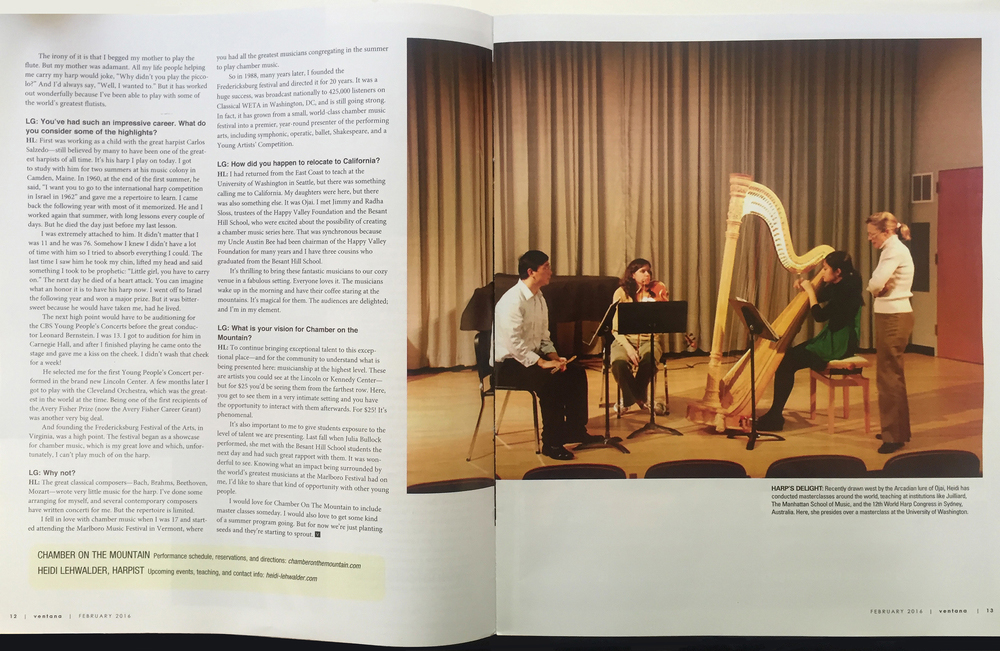 SIMPLY A GENIUS
Q&A with Heidi Lehwalder, the creative force behind Ojai's intimate new concert series.
By Leslee Goodman
"World-renowned harpist Heidi Lehwalder has had a long and illustrious career, performing with some 65 orchestras throughout the United States and Canada and touring extensively around the world. Chamber music is her passion, however, which is why in 1988 she founded the Fredericksburg Festival of the Arts, in Virginia, and three years ago launched Ojai's newest performing arts series, Chamber On The Mountain. She spoke with us about her career, why the harp, and why Ojai."
Leslee Goodman: How old were you when you first started to play the harp - and why did you choose it?
Heidi Lehwalder: Playing the harp was actually my mother's idea. She was a cellist in the Seattle Symphony for 40 years and also played in a trio with a violinist and a harpist who (my mother thought) wasn't very good. She said that if she had a daughter who was halfway talented, her daughter would play the harp. When I started picking out my brother's songs on the piano by ear before I was three, I was nominated. Then, when the great harpist Lynn Wainwright Palmer moved from Philadelphia to Seattle, my destiny was more or less decided. Palmer accepted me as a student when I was seven years old.
I debuted with the Seattle Symphony when I was nine. I remember that I had matured enough that my parents were able to remove the little blocks they had attached to the harp's pedals so that I could reach them.
The irony of it is that I begged my mother to play the flute. But my mother was adamant. All my life people helping me carry my harp would joke, "Why didn't you play the piccolo?" And I'd always say, "Well, I wanted to." But it has worked out wonderfully because I've been able to play with some of the world's greatest flutists.
LG: You've had such an impressive career. What do you consider some of the highlights?
HL: First was working as a child with the great harpist Carlos Salzedo - still believed by many to have been one of the greatest harpists of all time, It's his harp I play on today. I got to study with him for two summers at his music colony in Camden, Maine. In 1960, at the end of the first summer, he said, "I want you to go to the international harp competition in Israel in 1962" and gave me the repertoire to learn. I came back the following year with most of it memorized. He and I worked again that summer, with long lessons every couple of days. But he died the day just before my last lesson.
I was extremely attached to him. It didn't matter that I was 11 and he was 76. Somehow I knew I didn't have a lot of time with him so I tried to absorb everything I could. The last time I saw him he took my chin, lifted my head and said something I took to be prophetic: "Little girl, you have to carry on." The next day he died of a heart attack. You can imagine what an honor it is to have his harp now. I went off to Israel the following year and won a major prize. But it was bittersweet because he would have taken me, had he lived.
The next high point would have to be auditioning for the CBS Young People's Concerts before the great conductor Leonard Bernstein. I was 13. I got to audition for him in Carnegie Hall, and after I finished playing he came onto the stage and gave me a kiss on the cheek. I didn't wash that cheek for a week!
He selected me for the first Young People's Concert performed in the brand new Lincoln Center. A few months later I got to play with the Cleveland Orchestra, which was the greatest in the world at the time. Being one of the first recipients of the Avery Fisher Prize (now the Avery Fisher Career Grant) was another very big deal.
And founding the Fredericksburg Festival of the Arts, in Virginia, was a high point. The festival began as a showcase for chamber music, which is my great love and which, unfortunately, I can't play much of on the harp.
LG: Why not?
HL: The great classical composers - Bach, Brahms, Beethoven, Mozart - wrote very little music for the harp. I've done some arranging for myself, and several contemporary composers have written concerti for me. But the repertoire is limited.
I fell in love with chamber music when I was 17 and started attending the Marlboro Music Festival in Vermont, where you had all the greatest musicians congregating in the summer to play chamber music.
So in 1988, many years later, I founded the Fredericksburg festival and directed it for 20 years. I was a huge success, was broadcast nationally to 425,000 listeners on Classical WETA in Washington, DC, and is still going strong. In fact, it has grown from a small, world-class chamber music festival into a premeir, year-round presenter of the performing arts, including symphonic, operatic, ballet, Shakespeare, and a Young Artists' Competition.
LG: How did you happen to relocate to California?
HL: I had returned from the East Coast to teach at the University of Washington in Seattle, but there was something calling me to California. My daughters were here, but there was also something else. It was Ojai. I met Jimmy and Radha Sloss, trustees of the Happy Valley Foundation and the Besant Hill School, who were excited about the possibility of creating a chamber music series here. That was synchronous because my Uncle Austin Bee had been chairman of the Happy Valley Foundation for many years and I have three cousins who graduated from the Besant Hill School.
It's thrilling to bring these fantastic musicians to our cozy venue in a fabulous setting. Everyone loves it. The musicians wake up in the morning and have their coffee staring at the mountains. It's magical for them. The audiences are delighted; and I'm in my element.
LG: What is your vision for Chamber On The Mountain?
HL: To continue bringing exceptional talent to this exceptional place - and for the community to understand what is being presented here: musicianship at its highest level. These are artists you could see at the Lincoln or Kennedy Center - but for $25 you'd be seeing them from the farthest row. Here, you get to see them in a very intimate setting and you have the opportunity to interact with them afterwards. For $25! It's phenomenal.
It's also important to me to give students exposure to the level of talent we are presenting. Last fall when Julia Bullock performed, she met with the Besant Hill School students the next day and had such a great rapport with them. It was wonderful to see. Knowing what an impact being surrounded by the world's greatest musicians at the Marlboro Festival had on me, I'd like to share that kind of opportunity with other young people. I would love for Chamber On The Mountain to include master classes someday.
I would also love to get some kind of summer program going. But for now we're just planing seeds and they're starting to sprout.

THE OJAI VALLEY VISITORS GUIDE
Spring 2016, Page 157
"Up to the Mountain" By Bill Warner
Transcript below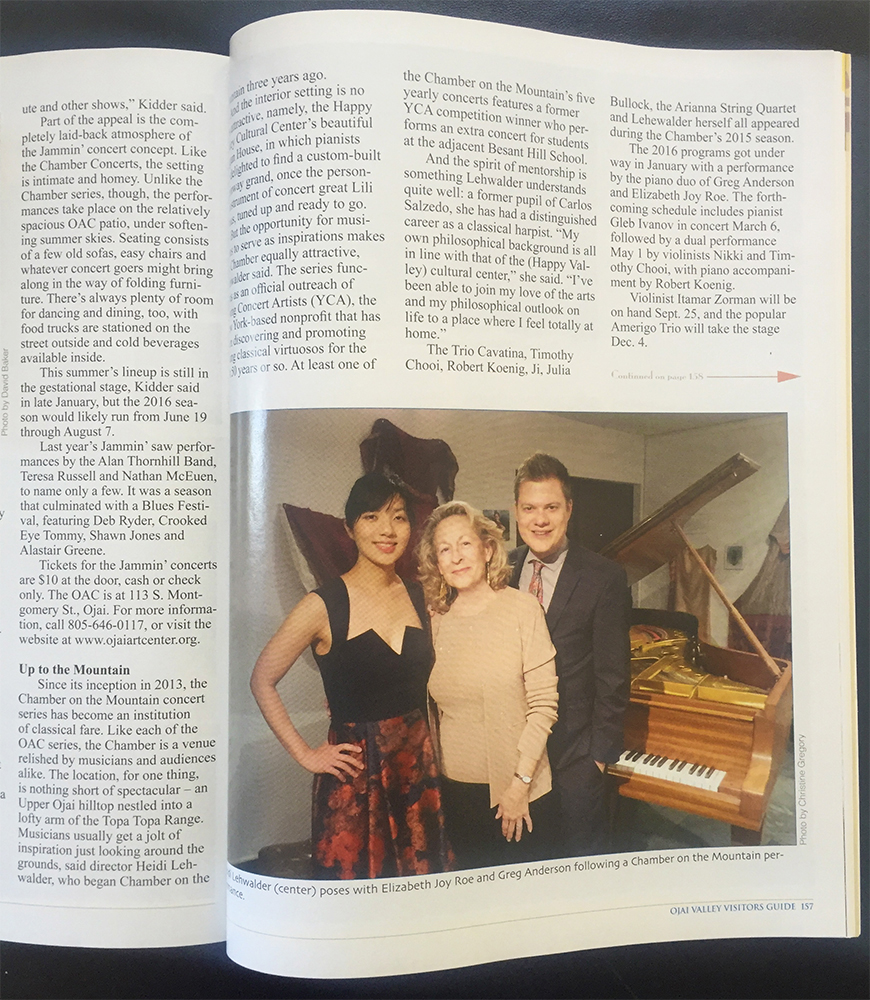 Up to the Mountain
By Bill Warner
Since its inception in 2013, the Chamber On The Mountain concert series has become an institution of classical fare. Like each of the OAC series, the Chamber is a venue relished by musicians and audiences alike. The location, for one thing, is nothing short of spectacular - an Upper Ojai hilltop nestled into a lofty arm of the Topa Topa Range. Musicians usually get a jolt of inspiration just looking around the grounds, said director Heidi Lehwalder, who began Chamber On The Mountain three years ago.
And the interior setting is no less attractive, namely, the Happy Valley Cultural Center's beautiful Logan House, in which pianists are delighted to find a custom-built Steinway grand, once the personal instrument of concert great Lili Kraus, tuned up and ready to go.
But the opportunity for musicians to serve as inspirations makes the Chamber equally attractive, Lehwalder said. The series functions as an official outreach of Young Concert Artists (YCA), the New York-based nonprofit that has been discovering and promoting young classical virtuosos for the last 50 years or so. At least one of the Chamber On The Mountain's five yearly concerts features a former YCA competition winner who performs an extra concert for students at the adjacent Besant Hill School.
And the spirit of the mentorship is something Lehwalder understands quite well: a former pupil of Carlos Salzedo, she has the distinguished career as a classical harpist. "My own philosophical background is all in line with that of the (Happy Valley) cultural center," she said. "I've been able to join my love of the arts and my philosophical outlook on life to a place where I feel totally at home."
The Trio Cavatina, Timothy Chooi, Robert Koenig, Ji, Julia Bullock, the Arianna String Quartet and Lehwalder herself all appeared during the Chamber's 2015 season.
The 2016 programs got under way in January with a performance by the piano duo of Greg Anderson and Elizabeth Joy Roe. The forthcoming schedule includes pianist Gleb Ivanov in concert March 6, followed by a dual performance May 1 by violinists Nikki and Timothy Chooi, with piano accompaniment by Robert Koenig.
Violinist Itamar Zorman will be on hand Sept. 25, and the popular Amerigo Trio will take the stage Dec. 4. Admission for Chamber On The Mountain is $25 - which includes a reception after the performance. Tickets can be purchased through the website at www.chamberonthemountain.com or at the door. It's best to purchase in advance, Lehwalder cautions, since the shows usually sell out.

OJAI QUARTERLY
Spring 2016, Page 35
"CHAMBER MADE
Bringing DOWN the SOUND from MOUNTAIN to TOWN" By Leslee Goodman
Transcript below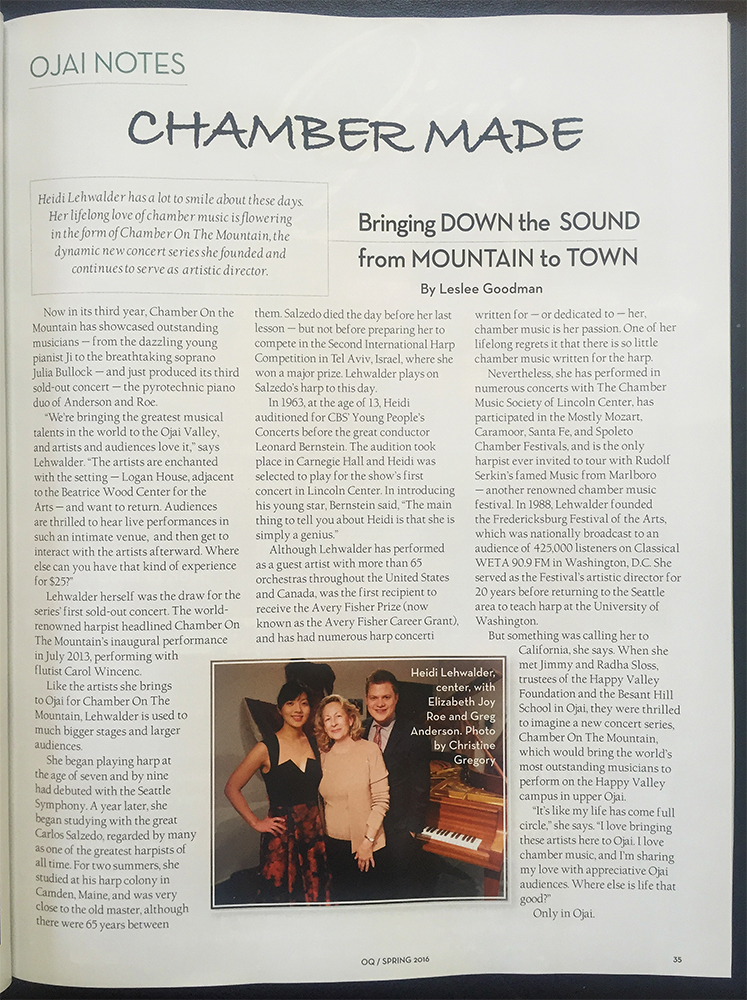 CHAMBER MADE
Bringing DOWN the SOUND from MOUNTAIN to TOWN
By Leslee Goodman
"HEIDI LEHWALDER has a lot to smile about these days. Her lifelong love of chamber music is flowering in the form of Chamber On The Mountain, the dynamic new concert series she founded and continues to serve as artistic director."
Now in its third year, Chamber On The Mountain has showcased outstanding musicians - from the dazzling young pianist Ji to the breathtaking soprano Julia Bullock - and just produced its third sold-out concert - the pyrotechnic piano duo of Anderson and Roe.
"We're bringing the greatest musical talents in the world to the Ojai Valley, and artists and audiences love it," says Lehwalder. "The artists are enchanted with the setting - Logan House, adjacent to the Beatrice Wood Center for the Arts - and want to return. Audiences are thrilled to hear live performances in such an intimate venue, and then get to interact with the artists afterward. Where else can you have that kind of experience for $25?"
Lehwalder herself was the draw for the series' first sold-out concert. The world-renowned harpist headlined Chamber On The Mountain's inaugural performance in July 2013, performing with flutist Carol Wincenc.
Like the artists she brings to Ojai for Chamber On The Mountain, Lehwalder is used to much bigger stages and larger audiences.
She began playing harp at the age of seven and by nine had debuted with the Seattle Symphony. A year later, she began studying with the great Carlos Salzedo, regarded by many as one of the greatest harpists of all time. For two summers, she studied at his harp colony in Camden, Maine, and was very close to the old master, although there were 65 years between them. Salzedo died the day before her last lesson - but not before preparing her to compete in the Second International Harp Competition in Tel Aviv, Israel, where she won a major prize. Lehwalder plays on Salzedo's harp to this day.
In 1963, at the age of 13, Heidi auditioned for CBS' Young People's Concerts for the great conductor Leonard Bernstein. The audition took place in Carnegie Hall and Heidi was selected to play for the show's first concert in Lincoln Center. In introducing his young star, Bernstein said, "The main thing to tell you about Heidi is that she is simply a genius."
Lehwalder has performed as a guest artists with more than 65 orchestras throughout the United States and Canada, she was the first recipient to receive the Avery Fisher Prize (now known as the Avery Fisher Career Grant), and has had numerous harp concerti written for - or dedicated to - her, chamber music is her passion. One of her lifelong regrets is that there is so little chamber music written for the harp.
Nevertheless, she has performed in numerous concerts with The Chamber Society of Lincoln Center, has participated in Mostly Mozart, Caramoor, Santa Fe, and Spoleto Chamber Festivals, and is the only harpist ever invited to tour with Rudolf Serkin's famed Music from Marlboro - another renowned chamber music festival. In 1988, Lehwalder founded the Fredericksburg Festival of the Arts, which was nationally broadcast to an audience of 425,000 listeners on Classical WETA 90.9 FM in Washington, D.C. She served as the Festival's artistic director for 20 years before returning to the Seattle area to teach harp at the University of Washington.
But something was calling her to California, she says. When she met Jimmy and Radha Sloss, trustees of the Happy Valley Foundation and the Besant Hill School in Ojai, they were thrilled to imagine a new concert series, Chamber On The Mountain, which would bring the world's most outstanding musicians to perform on the Happy Valley campus in upper Ojai.
"It's like my life has come full circle," she says. "I love bringing these artists here to Ojai. I love chamber music, and I'm sharing my love with appreciative Ojai audiences. Where else is life that good?"
Only in Ojai.
Stay informed!
Would you like to be on our email list to receive announcements about our upcoming Chamber On The Mountain performances?
Please email us at: ChamberOnTheMountain@gmail.com and ask to be added to our contact list.
Follow us on Facebook and Instagram!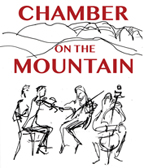 Home | About Us | Performance Schedule | Tickets | Past Performances | Map & Directions | Contact Us
Copyright © 2022 Beatrice Wood Center for the Arts
PO Box 804 / Ojai, CA 93024
(805) 646-3381
www.chamberonthemountain.com