Project:CSQ

Violinist Luanne Homzy, Violinist Hana Kim, Cellist Evgeny Tonkha, Violist David Walther
Sunday, October 15, 2023
3:00 pm / Logan House


TBA


Tickets $30.00

Project:CSQ Performs "Un Souvenir d'hiver" for string quartet, composed by Luanne Homzy
Project:CSQ is a rotating roster of musicians, composers, and musical creators, led by Luanne Homzy (violinist and composer) and Evgeny Tonkha (cellist). We have a wonderful repertoire ranging from classical to pop to original compositions and arrangements and works especially written for us. We also present unique musical works, with focus on local SoCal composers and artists. The musicians we work with are of the highest artistic, creative, and technical calibers, with the abilities to play a wide scope of genres and idioms, as well as improvisation. The artists are experienced with live performances, studio recordings, remote recordings, and collaborations.
Composers from the Motion Picture Industry have written pieces especially for this ensemble of players. Project:CSQ's repertoire includes world premieres, as well as original works by living composers, such as Bruce Broughton, Anna Drubich (premieres), Jongnic Bontemps (premieres), Luanne Homzy (premieres), Philip Glass, Sujin Nam (premieres), and George S. Clinton.
The current formation includes Violinist Luanne Homzy, Violinist Hana Kim, Violist David Walther, and Cellist Evgeny Tonkha.
BIOGRAPHIES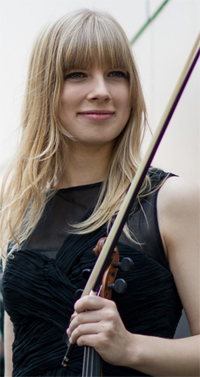 Luanne Homzy | Violin
Internationally acclaimed American/French-Canadian violinist Luanne Homzy is highly sought-after for her technical facility, sensitive musicality and expansive versatility. Based in Los Angeles, she works as a studio musician, an arranger/composer, and is the leader of the California String Quartet.
First Prize winner of the International Chamber Music Competition Hamburg in 2009 (with the Saguaro Piano Trio), and of the Canadian Music Competition, she has performed concerti with orchestras such as the Montréal Symphony Orchestra, the Hamburg Symphony Orchestra and the Colburn Chamber Orchestra. Having served as concertmaster for the Colburn Orchestra, the Los Angeles Virtuosi Orchestra, the American Youth Orchestra and the National Youth Orchestra of Canada, she has worked closely with masters such as Sir Neville Mariner, Gustavo Dudamel, James Conlon, Kent Nagano, and John Williams.
Ms. Homzy has collaborated with renowned artists such as Arnold Steinhardt, Franklin Cohen, Ani Kavafian, Paul Coletti, Ronald Leonard, Niklas Schmidt, Richard Lester, Steven Dann, Paul Neubauer, the Tokyo String Quartet, and members of the Los Angeles Philharmonic. Among the prestigious venues that have hosted her appearance are, Carnegie Hall, Walt Disney Concert Hall, the Banff Center and Izumi Hall. Ms. Homzy has performed in and taught at various festivals including the Bari International Music Festival in Italy, Ravinia's Steans Institute, Music By The Sea at Bamfield, The Schleswig-Holstein Music Festival, the Mecklenburg-Vorpommern Festival, and the Domaine Forget Festival.
Equally at home in many genres, whether it be classical, jazz, rock, gypsy or Eastern European folk music, Ms. Homzy performs world wide with crossover supergroup Trio Dinicu, hailed as "dazzling" by the San Francisco Chronicle. She has recently appeared with artists such as the John Jorgenson Quintet, Florin Niculescu, and Tcha Limberger. In addition to her performing career, Ms. Homzy composes and arranges jazz, popular, classical, folk, and world music for diverse performing ensembles. Recent works include her composition "Un Souvenir d'hiver" commissioned by the California String Quartet, her string quartet arrangement of "Viva La Vida" by Coldplay, and her orchestral arrangement can be heard on Kid Cudi's track "Kitchen".
She also works as a studio musician and string arranger. She can be heard (and occasionally seen) on movies and TV shows such as "The Ellen Degeneres Show", "A Star is Born", "Rogue One: A Starwars Story", "Lalaland", "Glee", "Rent: Live on Fox", "The Pirates of the Carribean" and on albums by Leonard Cohen, Seal, and Kud Cudi.
Luanne Homzy, originally from Montréal, studied with Robert Lipsett and Arnold Steinhardt on a full scholarship at the prestigious Colburn Conservatory in Los Angeles, and later obtained her Masters from the Hamburg Hochschule in Germany with Niklas Schmidt.

Hana Kim | Violin
Violinist Hana Kim is a member of the Los Angeles Opera Orchestra and a graduate of the Juilliard School.
At Julliard, Kim earned both her Bachelor of Music and her Master of Music under the guidance of Ron Copes, Earl Carlyss and Robert Mann — former and current members of the Juilliard String Quartet. She moved to Los Angeles to work with Robert Lipsett who invited her to be a part of the inaugural graduating class of the Colburn Conservatory.
Upon completing her studies at the Colburn Conservatory, Kim won Assistant Principal 2nd Violin position in Charleston Symphony in South Carolina. Kim has played at many festivals including Aspen Music Festival, Music Academy of the West, Tanglewood Music Festival, Spoleto Festival in Italy, and has performed with many prominent musicians and conductors.
Kim's honest, dynamic, and luscious playing has earned her the privilege to work and perform alongside some of today's brightest musical stars like Placido Domingo, Joshua Bell, Yo-Yo Ma, Sarah Chang, Lang Lang, Natalie Cole and Earth, Wind and Fire.
Kim is also one of the founding members of Confido Music Society.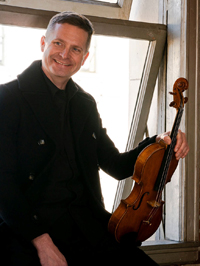 David Walther | Viola
Violist David Walther received both his Bachelor's and Master's degrees from the University of Southern California. He joined The Debussy Trio in 1999 and has performed and recorded with The Debussy Trio throughout the world.
A multi-talented musician, David is also a prolific composer whose influences range from past and present classical music to rock, pop, hip-hop, rap and jazz. He has composed pieces for The Debussy Trio, The Christiane Trio, The Capital Trio,The Karoly Duo, The Southern California Viola Choir, as well as pianist Duncan Cumming and cellist Paul Cohen.
A recording of David's chamber music entitled Threads of the Heart (Albany label) features performances by both The Debussy and Capital Trios. David's recordings and compositions are available at Fatrock Ink.

Evgeny Tonkha | Cello
Evgeny Tonkha was born in 1981 into a musical family, and studied at the Gnessin Music School (class of Professor Vladimir Tonkha.) In 1998 he entered the Russian Academy of Music (classes of Professor Natalia Shakhovskaya and Professor Valentin Berlinsky.) After graduating from the Russian Academy of Music, Evgeny was invited by Professor David Geringas to post-graduate studies at the Hanns Eisler Academy of Music in Berlin.
Since 2006, Evgeny has been collaborating with the Berliner Philharmoniker Orchestra. Since the age of 10, he has toured Germany, France, England, Switzerland, Italy, Spain, and the USA. Conductors he has worked with include Simon Rattle, Zubin Mehta, Claudio Abbado, Seiji Ozawa, Mariss Jansons, and Daniel Barenboim. Among his achievements are the 1st Prize and the Golden Medal at the 12th International Cello Competition in the Czech Republic, the Special Jury Prize at the 13th International Tchaikovsky Competition, and prizes for the best performance of contemporary music.
He participated in many prestigious festivals including "Marlboro" festival. Evgeny teaches at MiMoDa studio. In 2014, in collaboration with Nathan Frankel, he founded a new "K17" concert series in LA and was proud to represent such world-favorite artists as David Geringas, Gilles Apap, Giovanni Sollima, and many others.
Tickets $30.00