Harumi Rhodes, violin
Priscilla Lee, cello
Ieva Jokubaviciute, piano

Felix Mendelssohn - Piano Trio No. 2 in c-minor, Op. 66
Franz Schubert - Notturno in E-flat Major, Op. 148 (D. 897)
Robert Schumann - Piano Trio No. 1 in d-minor, Op. 63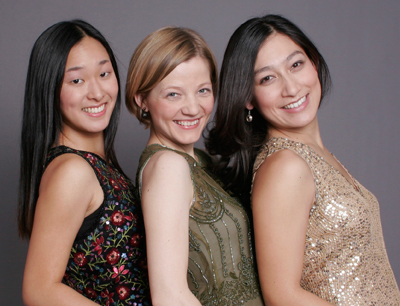 "Rich and emotive"
– The Herald Tribune
"Sophistication and brilliance"
– The Eastern Shore
Pianist Ieva Jokubaviciute, violinist Harumi Rhodes, and cellist Priscilla Lee formed Trio Cavatina in 2005 at the renowned Marlboro Music Festival in Vermont. Deeply rooted in a strong sense of shared musical values, Trio Cavatina has rapidly emerged as one of today's outstanding chamber ensembles whose committed music-making prompted Harris Goldsmith to describe the trio, in his 2008 Musical America article, as offering "potent, intense interpretations."
As the winners of the 2009 Naumburg International Chamber Music Competition, Trio Cavatina made their Carnegie Hall debut in 2010 with scintillating performances of two monumental Beethoven trios, Leon Kirchner's second trio, and the world premiere performance of Faces of Guernica written for them by Richard Danielpour. They also made their San Francisco debut earlier that season at Herbst Theater (San Francisco Performances) as well as their Philadelphia debut as one of the youngest ensembles to perform on the prestigious Philadelphia Chamber Music Society concert series.
Continuing to build its reputation as one of today's leading piano trios, the ensemble has been touring nationally over the last seasons with recent notable performances at Wolf Trap (Washington, DC), the Isabella Stewart Gardner Museum in Boston, at the Pittsburg Chamber Music Society, and on the Tulsa Performing Arts series. The 2010-11 season also marked the Trio's debut in Puerto Rico at Pro Arte Musical.
The trio has garnered critical acclaim and enthusiastic responses from audiences and presenters wherever they perform and has received immediate re-engagements, most notably at Union College in Schenectady, New York, where the trio has performed on numerous occasions to celebrate the Messiaen centennial and the anniversaries of Haydn, Mendelssohn, Schumann, and Chopin.
Trio Cavatina, in addition to their command of the classical and romantic repertoire, is committed to collaborating with living composers and to weaving 20th and 21st century repertoire into their programs. They have worked closely with the American composers Leon Kirchner, Richard Danielpour and David Ludwig, whose Three Yiddish Dances they premiered in 2010.
Visit Dispeker Artists and TrioCavatina.com for more information.