Program
Chaconne in D minor, BWV 1004 - Johann Sebastian Bach (1685-1750) (arr. Ferrucio Busoni)
Ave Maria - Johann Sebastian Bach (1685-1750) (arr. Charles Gounod)
Sonata in D minor, K9 - Domenico Scarlatti (1685-1757)
Sonata in C Major, K159 - Domenico Scarlatti (1685-1757)
Sonata in G Major, K146 - Domenico Scarlatti (1685-1757)
Impromptu - Katherine Balch (1991-)
My Story - Hanzhi Wang (1990-)
Revis Fairy Tale (I. Chichikov's Childhood) - Alfred Schnittke (1934-1998)
Musical America Worldwide New Artist of the Month, July 2018
First Prize, 2017 Young Concert Artists International Auditions
First Prize, 40th Castelfidardo International Accordion Competition (Italy)
Peter P. Marino Debut Prize of YCA
Mortimer Levitt Career Development Award for Women Artists of YCA
Ruth Laredo Award of YCA
Candlelight Concert Society Prize
Chamber Orchestra of the Triangle Prize
Krannert Center for the Performing Arts Prize
Sinfonia Gulf Coast Prize
Tannery Pond Concerts Prize
University of Florida Performing Arts Prize
Usedom Music Festival Prize
Vancouver Recital Society Prize
Washington Performing Arts Prize
COMMUNITIES DIGITAL NEWS (Washington, DC):
"Ms. Wang dazzled all at the full house at the Kennedy Center with her skills and musicianship. She offered a program of surprisingly daring and eclectic repertoire, including a wide range of classical repertoire explored so masterfully that it seems as if these works had actually been written for the accordion in the first place. It was a genuinely eye-opening evening. Hanzhi Wang is undoubtedly well on her way to a brilliant career that is certain to be much discussed."
OBERONíS GROVE (New York):
"Hanzhi Wang gave a remarkable performance. She displayed staggering virtuosity and a gift for drawing colors and magical dynamics from her accordion. It was an inspiring mixture of passion and finesse. Putting a regal polish on every phrase, her sparkling technique held the audience in a state of breathlessness, as thrilling to watch as to hear."
NEW YORK MUSIC DAILY:
"Hanzhi Wang isnít the first accordionist to specialize in classical music, but she is the first one ever to earn inclusion on the Young Concert Artists roster. Thatís a pretty big deal. Nothing beats the plaintive lusciousness of Wangís instrument of choice. She has a magically dynamic new album, and her Carnegie Hall debut in Zankel Hall is one of THE big accordion events of the year in New York."


Praised for her captivating stage presence and performances that are technically and musically masterful, the groundbreaking young musician Hanzhi Wang is the only accordionist to ever win a place on the roster of Young Concert Artists in its 59-year history. She is proving herself to be the perfect ambassador for her instrument.
Other firsts include being named Musical America "New Artist of the Month," an interview and performance on the 2,145th episode of New York WQXRís Young Artists Showcase as the first solo accordionist on the program, and the Naxos labelís first-ever solo accordion CD, Ms. Wangís "On the Path to H.C. Andersen,Ē which was nominated for the prestigious DR (Danish Radio) P2 Prize in 2019.
First Prize Winner of the 2017 Young Concert Artists International Auditions, Ms. Wangís debut opened the 2018-19 YCA Series in New York in The Peter Marino Concert at Zankel Hall at Carnegie Hall, and her Washington, DC debut opened the 40th Anniversary Young Concert Artists Series at the Kennedy Center, co-presented with Washington Performing Arts. This season, the Young Concert Artists Series will present her in New York with YCAís Omer Quartet, in the Summis Auspiciis Concert at The Morgan Library and Museum.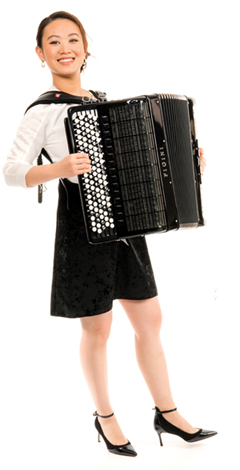 Ms. Wang was awarded YCA prizes for performances for Candlelight Concert Society in Columbia, MD; Sinfonia Gulf Coast in Destin, FL; Tri-I Noon Recitals at Rockefeller University in New York City; Vancouver Recital Society; Tannery Pond Concerts (NY), Usedom (Germany) Festival; Chamber Orchestra of the Triangle (NC); University of Florida Performing Arts Prize; and Krannert Center at the University of Illinois in Urbana. In addition, Alan & Judy Kosloff and Mike Lubin & Anne-Marie McDermott sponsorship her YCA Fellowship, and she holds the Ruth Laredo Prize and Mortimer Levitt Career Development Award for Women Artists of YCA.
Additional invitations to perform have come from the Oregon Music Festival for a performance as soloist with orchestra, IRIS Orchestra in Tennessee, Palm Beach Symphony, Buffalo Chamber Music Society, Cold Spring Harbor Laboratory, Alys Stephens Performing Arts Center (AL), Leaf Peeper Concerts (MA), Grand County (CO) Concert Series, the Bravo! Vail and Ibaguť (Colombia) Music Festivals, and YCA alumnus Alexander Fitersteinís Clarinet Academy in Minneapolis.
Ms. Wang won First Prize in the 40th Castelfidardo International Accordion Competition in Italy. She inspires the next generation of accordionists with lectures, performances and master classes, at the Manhattan School of Music, Royal Danish Academy of Music, Tianjin Music Conservatory, Ghent Music Conservatory (Belgium), and in Norway and Portugal. Composers Martin Lohse, James Black and Sophia Gubaidulina have written and dedicated works to her.
Ms. Wang earned her Bachelorís degree at the China Central Conservatory of Music in Beijing. She completed her Masterís degree at the Royal Danish Academy of Music in Copenhagen with the renowned accordion professor Geir Draugsvoll, and now serves as an assistant teacher at the Academy.
Hanzhi Wang is represented by Young Concert Artists, Inc.
Watch a Message from Hanzhi Wang
Young Concert Artists' "Songs of Comfort" Series